May 31st 2013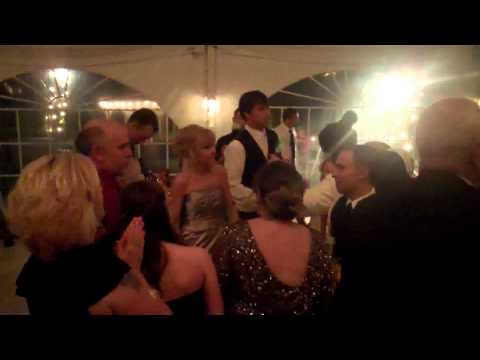 It was the last day of May 2013 and it was pretty warm but overall a beautiful day. The bride and groom Lauren Chrisman and Jordan Klein drove from Tallahassee Florida Monday so hot weather is something they are used to. The ceremony was on the deck and the reception in the tent at Celebrations at the Bay in Pasadena Maryland. After the ceremony, the cocktail hour was on the lawn and a nice breeze was blowing by then. The bride and groom included their dog, Juliette who was the "Mutt of Honor" in the festivities. They were introduced in the hall and danced their first dance to Christine Perri's "A Thousand Years". The father of the bride gave a heartfelt welcome speech and talked about the first time Lauren met Jordan on the beach. During dinner everyone enjoyed the photobooth provided by the bride and groom. After dinner the bride danced with her dad to Tim McGraw's "My Little Girl" and the groom with his mom to "Summer Wind" by Frank Sinatra. The bride and groom cut the cake and did a generation dance with Roger and Janet being the longest together couple for 53 years. Everyone had a great time as you can see by the video. Lauren and Jordan danced their last dance to "Man in the Mirror" by Michael Jackson.
They are now on their honeymoon in Riviera Maya Mexico
Congratulations Lauren and Jordan
Posted on Wedding Wire:5.0 & Wedding Channel:5 Stars

DJ Dave Holmes was awesome! He was extremely flexible and was able to carry out some of our special requests. He also got to the venue early and helped our musician with setting up. He even surprised my husband and I with a short video montage capturing the special moments of the day, so that we would have something to watch before we received the video from our videographer! We were so excited to see the footage the next day before our honeymoon, and he did it for free and without us even having to ask.
He was extremely professional, played great music, and ensured that our reception was all we had hoped for! I would definitely recommend him to anyone looking to book a wonderful, upbeat and talented DJ for their event!