October 26th 2014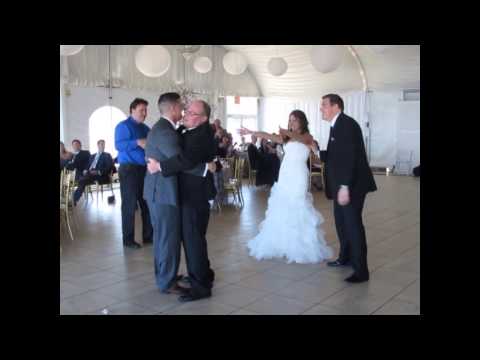 Another beautiful Autumn morning when Elizabeth Schmidt and Kaine Price held their wedding and reception at Celebrations at the Bay on October 25th 2014. The bride works for Kennedy Krieger Institute and the groom is from Australia where they met. They love to travel and the wedding theme was about traveling around the world. Classical guitarist Chris Dunn performed the ceremony music. After cocktail the bridal party were introduced into the tent where the reception was held. After dinner they danced their first dance to "Crazy Love" by Michael Buble. The bride's father joined in with the bride halfway through the song. It was a fun group and everyone had a fabulous time.
Congratulations to Elizabeth and Kaine
Posted on Wedding Wire – 5.0 Rating
We had the pleasure of using event entertainment for DJ and photography services! They did a fantastic job! Dave was an amazing DJ for our day time wedding and he kept the party going, for all ages for the full reception! I couldn't have asked for a better DJ! Dave was available to meet/ chat with us through out the whole planning process! Not to mention, his prices were great and SO worth the value! We had Rob Grant photograph our wedding day. AMAZING. He was prompt, attentive to detail, captured fantastic photos throughout the day and the best part is that we didn't really know he was there! His journalistic style was perfect! He captured the whole day but always did it in a classy, non noticeable way! It was perfect for us! Great pricing too!