July 24th 2015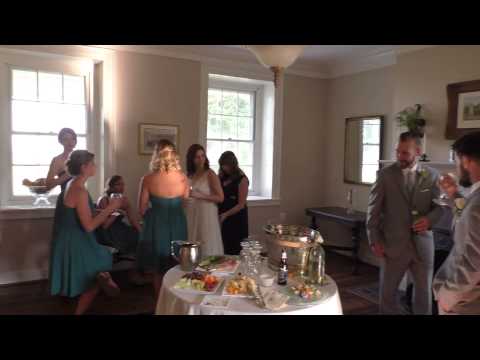 Adam and Marlayna held their wedding and reception at Springfield Manor Winery in Thurmont Maryland on July 24th 2015. I met Marlayna at an event in March. She is a professional photographer and was getting married this year and had not selected a dj for her wedding. It was an honor to be chosen because there are so many djs out there that she has worked with. This was our first time at Spring Manor Winery in Thurmont and is a great place for a wedding. We did the ceremony outside and the reception was inside. The bride and groom were introduced and did their first dance to "Look at Where We Are" by Hot Chip. After dinner she danced with her dad to "Unforgettable" by Natalie and Nat King Cole. Adam then danced with his mom to "All My Life" by the Beatles. Everyone had a fun time at their wedding. They danced the last song to "Still Into You" by Paramore. There was a fiber optic sparkler sendoff at the end.
They are now honeymooning in Antigua
Congratulations Marylayna and Adam
Posted on Wedding Wire 5.0 Rating:
I would absolutely refer Dave Holmes and his wife to any bride and groom (and I have!) As a photographer myself, I have happily referred Dave of Event Entertainment to couples looking for a DJ because I have now both worked with him at a wedding, as well as had him DJ my own – and all experiences with him and his wife have been wonderful! For starters, they are just really down to earth and pleasant people to talk to. Very easy going and accommodating. We had some particular song choices for things like cocktail hour and special dances, and Dave made time with us on the phone to play the songs and make sure they were the ones we wanted. We've heard lots of great feedback from guests that they enjoyed the music, had (appropriate, ha!) requests honored, and had a great time! And to top it all off, they REALLY go above and beyond with a sweet video to document highlights of the parts of the day they were there for, AND they even very graciously helped a lost bridesmaid get back to the hotel! 🙂 DJ Dave is fantastic and I hope to work with him again in the future!