November 12th 2016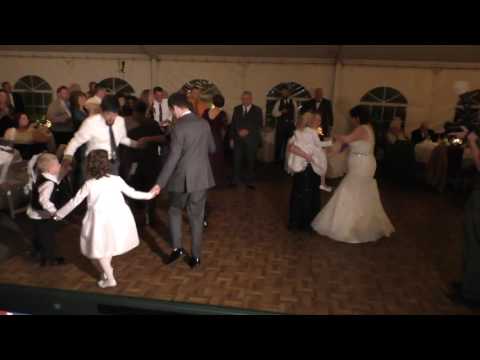 Brian and Christina held their wedding and reception at the Elkridge Furnace Inn in Elkridge Maryland on November 12th 2016. This was my second wedding here this weekend and it is a great place for a wedding. After the ceremony they were introduced and did their first dance to "Anywhere With You" by Jake Owen. Christina then danced with her dad to "My Girl" by the Temptations and Brian with his mom to "You'll Be in My Heart" by Phil Collins. This was a great party group and everyone sang and danced all night. They even did an apron dance with Polkas. I had done the best man's wedding and the groom's sisters wedding and I love doing events for their families. The groom and his friends went to West Virginia so of course we did "Take Me Home Country Roads" by John Denver.
They are going on a cruise for their honeymoon
Congratulations Christina and Brian
Posted on Wedding Wire – 5.0 Rating
DJ Dave was amazing, from the time we booked him until our wedding (and beyond). He is very responsive, and when we met with him prior to the wedding, he had all the music we had requested ready to go. In fact, when we were meeting with him, another couple came over to tell us that Dave had been their DJ 11 years prior, and they raved about him. At our wedding, he not only had the perfect music for cocktail hour and dinner, he also got our party started when people were ready to dance. Our wedding had a lot of people who did not want to leave the dance floor, so DJ Dave kept the party going. As we have seen friends after our wedding, so many have raved about how much fun they had, and how great the DJ was. As the bride, the whole day is a blur, but Dave sent me a video afterwards, that showed all our friends and family having a blast, and a packed dance floor.
We also were about to book our videographer with Dave, and had a great experience with him as well.