November 11th 2016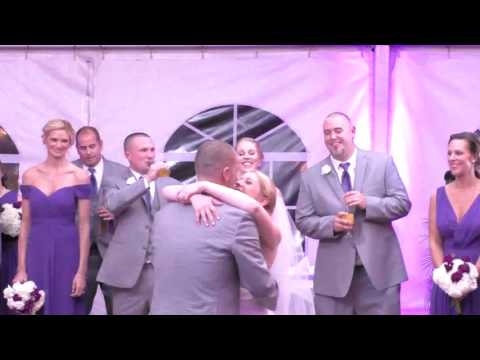 It was Veterans Day 2016 when Holly and Shan held their wedding and reception at the Elkridge Furnace Inn in Elkridge Maryland. The ceremony was held outside in the garden. It was a nice night since is was mid November. After the ceremony and cocktail the bridal party was introduced and Holly and Shan danced their first dance to "Lucky" by Jason Mraz and Colbie Caillat. After dinner. they danced with their parents at the same time to "What A Wonderful World" by Louis Armstrong. Everyone had a great time dancing. The bride and a lot of her friends who when to UNC Wilmington sang and danced to their them song from Thelma Houston called "Don't Leave Me this Way". Shan and Holly danced their last dance to "Save The Last Dance For Me" by Michael Buble.
They are going to Saint Lucia for their honeymoon
Congratulations to Holly and Shan
Posted on Wedding Wire – 5.0 Rating
I had the privilege of working with Dave, the owner of Event Entertainment. While planning our wedding, I quickly realized that vendors really lack communication. I can say that Dave was the ONLY vendor that was very communicative. He would respond to my emails right away, and answer all of my questions (another thing I realized, some vendors wouldn't answer all questions). Our makeup artist/friend recommended Event Entertainment and I am so happy that she did. We wanted a fun wedding, and we got that with Dave. Everyone was dancing right from the start and that was important to me. Dave was very professional and even had his wife at our wedding to help out. She recorded a lot of our wedding, and we received a very nice video. Dave met up with us at the venue during our tasting, so he could make sure he had the proper cord to connect to their system for the cocktail hour. A week prior to our wedding we met again, and he went over songs that we wanted, or didn't want played. It was nice, because he even asked if I had a song from my college years that he should play. Dave was even flexible when we weren't sure if the weather would be decent enough to have our ceremony outside. It is hard trying to decide which vendors to go with while planning a wedding, unless someone is recommended. We would highly recommend Event Entertainment and even had several people tell us how great our DJ was.